The Diamond Developers Doctoral Fellowship Program in Sustainability Studies


The Diamond Developers Doctoral Fellowship Program in Sustainability Studies 
In the summer of 2016, Diamond Developers of Dubai announced a one-time Doctoral Fellowship Program in sustainability studies to provide promising young researchers from the Arab region the opportunity to undertake doctoral graduate studies and research at the University of California, Davis.  Two candidates were selected, Nermin Dessouky and Yasmina Choueiri.  Both are enrolled in the Geography PhD program.
Find out more about the two candidates and their research below.
Yasmina Choueiri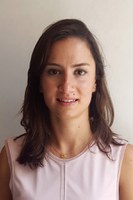 PhD Candidate in Geography
University of California, Davis
MS in Urban Environmental Management, minor in Land-Use and Planning
Wageningen University
 
Yasmina Choueiri is Ph.D. Candidate in the Geography Program at UC Davis. She is researching urban residential water systems to understand the relationships between their formal and informal aspects. She is analyzing the structure of their governance, and their socio-economic and environmental impacts by focusing on water affordability and associated energy nexus.
Prior to her Ph.D. Yasmina received her master's degree in Urban Environmental Management with a minor in Land-Use and Planning, from Wageningen University (the Netherlands). She later worked in the business and the academic domains, in Beirut (Lebanon), as an environmental consultant, landscape designer, researcher, and lecturer. Some of the projects that she worked focused on landscaping, land- use planning, environmental architecture and sustainable development; along with their related research on: urban biodiversity, biomimicry, ecosystems and their services, habitat, native fauna/flora, and bio-inspired interventions. In academia she assisted in the development and delivery of design and landscape design courses to undergraduate students at the American University of Beirut and UC Davis.
Yasmina Choueiri was interviewed by the UCDAR Student Assistant Julian Leus in the early 2019.  You can hear it below.
Nermin Dessouky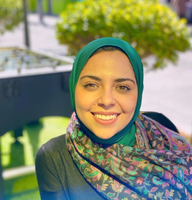 Ph.D. Candidate in Urban Geography
 University of California, Davis
 MS in Sustainable Development, The American University in Cairo
Bachelors of Architecture, Misr International University
Nermin is a Ph.D. candidate in Urban Geography at the University of California, Davis. At UC Davis, Nermin works as a graduate researcher at the Energy and Efficiency Institute. Nermin also works as a teaching assistant for the Sustainable Environmental Design program and the Landscape Architecture program. Nermin worked as the grant application advisor for The Green Initiative Fund and was recently selected for the UC Davis Leaders for the Future program. Before joining UC Davis, Nermin obtained a Bachelor of Architecture from Misr International University and an MSc in Sustainable Development from The American University in Cairo (AUC).  She also worked as a research associate at the Research Institute for a Sustainable Environment at AUC. Nermin's research examines the quest for urban sustainability in the MENA region. Nermin uses systems thinking to navigate conflicts in design use values between different actors. Her work focuses on monitoring and evaluating the social and environmental impacts of the built environment across different scales.
Nermin Dessouky was interviewed by research assistant Elise Boyle on August 24, 2020.